Cannot Find Dynamic Templates in Crocoblock Installation Wizard
I cannot find the dynamic templates
Answer
Modified on: Thu, 2 Mar, 2023
Check Plugin Version
First of all, make sure that the version of Crocoblock Installation Wizard currently in use is 1.1.0. To do so, go to Plugins > Installed Plugins, find Crocoblock Wizard amidst all plugins, and double-check if its version is 1.1.0.
If it's not, then download the newest version from your Crocoblock account and re-install it. Although, you should deactivate and uninstall the previous Wizard version though.
Got questions? Learn more about Installation Wizard here.
Check the license type
Follow the Crocoblock > License pathway. In a pop-up window, you will see the Crocoblock license details. If you've got any other set but All-Inclusive Yearly/Lifetime, this might be the reason you cannot find the Dynamic templates batch.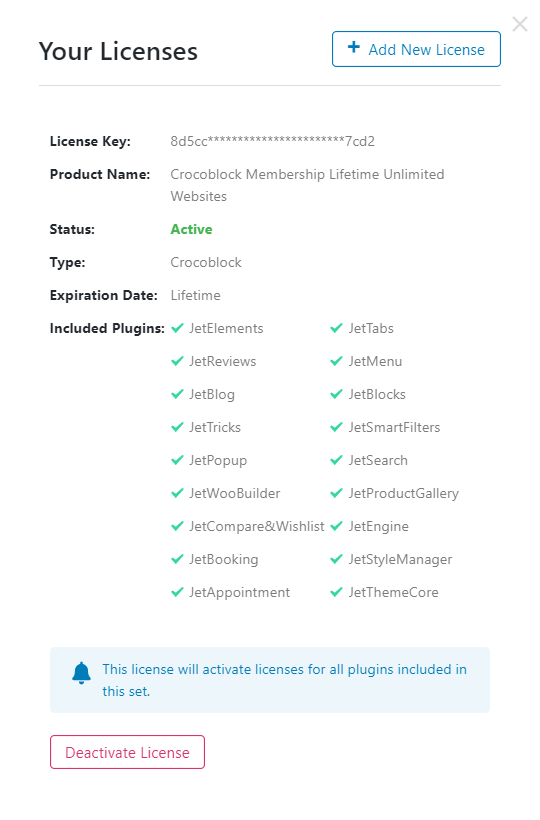 Dynamic templates are a privilege granted to All-Inclusive set owners. Please make sure your license type lives up to that. If not, you may want to upgrade.
Run the Wizard
Open the Crocoblock > Installation Wizard directory, press "Let's Go" on the welcome screen, and choose "Full Crocoblock package". After you install the theme, the Wizard will suggest both Dynamic and Design templates.
Was this article helpful?